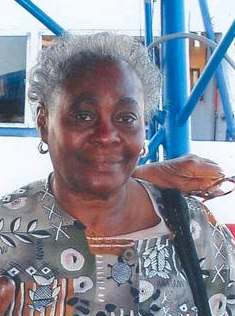 North American Missing Persons Network: Ethlin Ruddock

Brooklyn Woman with Alzheimer's Still Missing
Last Seen in Flatlands

NEW YORK -- An elderly Brooklyn woman with Alzheimer's has been missing from her Brooklyn home for a week. Her family has been handing out photo fliers, hoping someone has seen Ethlin Williams Ruddock, 78.

Police said she was last seen Saturday, September 22, at 5:30 p.m. on East 46th Street in the Flatlands section of Brooklyn.

She was wearing a floral-print shirt, beige skirt, black sandals, a black Coach purse, and a gold wedding band inscribed with "To Ethlin Love Alvin." She is of African-Caribbean descent and has black eyes, a dark complexion, and thin salt-and-pepper hair.

Ruddock is enrolled in the Alzheimer's Association Safe Return program. Her identification number is 232665, but she is not wearing any of her identification products.

Anyone with information can call the Alzheimer's Association Safe Return program at 800-572-1122 or the Crime Stoppers hot line at 800-577-TIPS (8477).