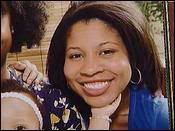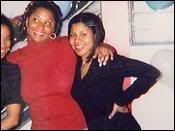 Nailah Franklin is 5′2″ and weighs about 115 lbs.

Please call the police at (312) 746-9259 if you have any information about the case.

For more info about the case check the Crimeblog USA which is updating its post on Nailah regularly: Missing Person from Chicago: Nailah Franklin

The latest news as I'm typing this is that her vehicle was found in Indiana, but she's still missing.
Here is an article from CBS News in Chicago.

Family Fears Missing Woman Was Harmed
Friend Says Nailah Franklin Disappeared After Threatening Message From Ex-Boyfriend


(CBS) CHICAGO A massive effort is underway to find a missing woman who disappeared apparently without a trace. Nailah Franklin's family and friends, along with police, are scrambling to get the word out.

As CBS 2's Suzanne Le Mignot reports, the Little Gym in University Village served Friday as the gathering point for Franklin's family and friends. There was a continuous flow of well wishers stopping by, picking up fliers that they're passing out in the community. Both the police and Franklin's family say they're not giving up hope she'll be found.

Family and friends spent Friday afternoon passing out fliers near Franklin's University Village condominium.

"We just want to get as much information possible out about Nailah and to be able to talk and keep the momentum in the streets," said Franklin's friend Lavelle Smith.

The 28-year-old Eli Lilly pharmaceutical representative was last seen on September 18. Her family says she is always in constant contact, especially by text message. The last message she sent was that night, saying she was at dinner and would call later. No one has heard from her since.

"She is very bright, smart, educated, a beautiful black woman," said Franklin's uncle Dwayne Johnson.

At a news conference on Friday afternoon, police said they are tracing phone calls as well as personal and business credt card records. They're also going over video from a surveillance camera outside her condo.

"I'd just like to find her," said Sgt. Virginia Zic-Schlomas of the Area 4 Special Victims Unit.

Police are talking with several people Franklin has had relationships with. Sources say one of them has a history of making threats to other women. A week before she vanished Franklin had filed a report with police about a man she had dated, claiming he was threatening her by phone.

"She had already had contact with a detective of our agency, who was in constant contact with her giving her advice," Zic-Schlomas said.

Among the advice was to file a restraining order against the man.

Franklin's friend Dana McClellan said the message contained the following: "Basically 'I could do harm to you. You haven't seen that side, of me but I do have a bad side and I could do harm to you.'"

Franklin's sister went to the Harrison Area police headquarters Friday morning to talk to detectives about the case. She said detectives called her and asked her to come in.

Police say they still have confidence Franklin will be found.

"I'm still hoping there's a positive outcome in the results of all this," Zic-Schlomas said.

Two computers are also missing from Franklin's home: a personal laptop and one she used for her work with Eli Lilly.

Franklin is 5-feet 2-inches, 115 pounds, with brown eyes and brown hair.

Her company car, a 2005 four-door, black Chevy Impala, has also vanished. It has Illinois license plate number of 1957855.

Eli Lilly is also involved in the investigation since one of their employees, and a company computer, is missing.

"This is someone who just had everything to live for; she was at the top of her game professionally; she bought two condos on her own as a single woman; she dotes on her niece, my daughter; she's just a person who is very connected with the people she cares about," Franklin's sister said. "This is so out of character."

If you have any information about the case, police ask that you call (312) 746-9259.